Skiing in the Andes
I added pictures to this post
Ok, the last post now has most of the pictures up, so look at those. I am still working on getting photos up on this one.
Last Saturday I went skiing. Skiing in Chile is skiing in the Andes mountains. Me and a couple friends planned to go and there is a place in Santiago where they will take you up there in a bus. It turned out tons of people from my program all had the same idea because it was the first weekend the slopes were open and so there ended up being 13 of us and so we got our own minibus to ourselves. It is only about and hour and a half from Santiago to the slopes because we are so close to the mountains.
I think that the last time I went skiing was in 8th grade, so 6 or 7 years ago. There were so many of us that went that it worked out that there were people at all levels so we all had someone to ski with. I picked it up again right away...meaning I could ski and stay up but had no form, but that doesn´t really matter does it?
Because it is winter here and summer in the northern hemisphere, there are lots of Americans that come to ski. So the place was filled with Americans speaking English and all the staff speaks English, and some of them are even American. That was very wierd because you never knew whether to speak to someone in English or Spanish.
This was definitly the most beautiful place I have ever skied. When you are on the lift or at the top of a mountain you can see all the snow covered mountains.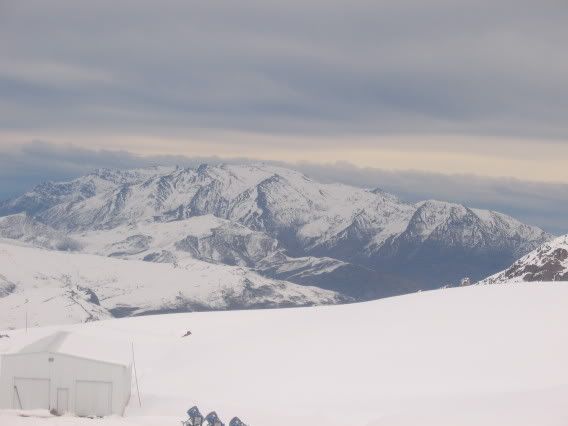 I mostly stayed on the easier slopes because although I tried a few harder ones and could do it, it was fun to do the easy ones because I could just go really fast and have fun without being scared or worrying so much about falling. I did take a couple good spills, although surprisingly not really any on the mountain as I was going down, most were from hitting a bump at the bottom of the mountain as I was coming to a stop. But what is skiing without some good falls?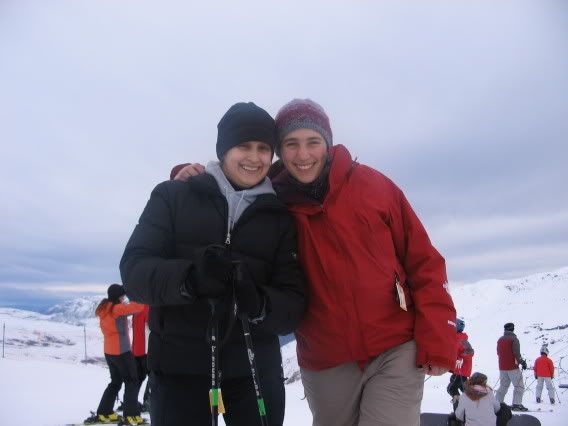 Me and Catherine who is also from Bard
There was one lift that instead of sitting on the bench and riding over the mountain, you have a pole with a disk at the end and you sit on the disk and essentially ski up the mountain while it pulls you. I did that lift twice and it was so scary, I didn´t like it. Getting on is hard and so the first time I tried I fell off right as I got on and had to try it again. Once I got on I was terrified that I would fall off when I was actually going up the hill. I was also worried about dropping my poles so I put the straps back around my wrists...bad idea. When it was time to get off I let go of the lift, but my ski poles were wrapped around it, so i let go of my poles, but they were on my wrist so i wasn´t sitting anymore but my arms were still attached. I managed to get the pole off just in time to not hit some sign and get dragged back around hanging from my arm. I did brave that lift one more time and did fine though.
The whole drive home we watched the sunset over the snowy mountains which was beautiful and nice to enjoy before entering smoggy Santiago again.