Mendoza, Argentina
(There are now some pictures up from skiing on the last post)
Last Thursday me adn my friend Kate went to Mendoza whichi s the closest city in Argentina to Santiago. I t is only a six or seven hour bus ride through the Andes mountains. I had heard before going that the bus ride is beautiful and worth going just for that. It is true, it is a gorgeous ride through the mountains. On the chilean side, huge mountains that normally would be completly covered in snow but because there hasn´t been so much now this year they were mostly just dotted with large passes of snow.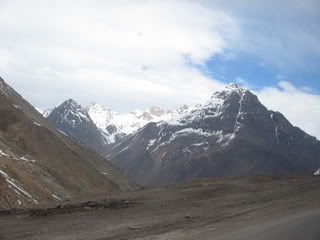 Then at some point we went into a tunnel that went straight through a mountain and emerged on the Argentina side which looked completly different. There was no snow at all but huge mountains that were all different colors, mostly shades of brown but some of them even had a green, purple or yellow shade to them. Anyway, really really beautiful ride there.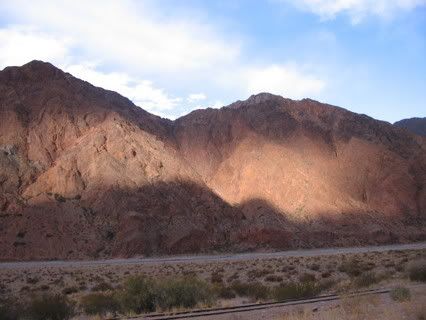 We arrived in Mendoza and met Kate´s friend David who was studying in Mendoza, found a hostel that Kate had stayed in before and got some dinner. The next day me and Kate rented bikes and went to the big park in the city. People in Mendoza are crazy drivers and don´t stop at red lights or for pedestrians and so biking through the streets was quite scary in addition to the fact that Kate´s bike seat had unnaturally bouncy shocks and so she just bounced up and down the whole ride. The park is huge and beautiful, all the paths are lined with big trees that arch over the path. After getting a little ways into the park we realized we were completly out of shape and exhausted so we stopped to have a lunch of bread, cheese and palta (avocado) and take a nap in the grass in the sun. Kate´s friend David was leaving the next day and so we went to his goodbye party which was all Argentinians, mostly his neighbors. There were little kids, teenagers, people our age, and adults there. It was so nice because they all seemed to have a relationship with him and really liked him. I was a completly different atmosphere and type of relationship than I am usedto and have in Santiago.
It was wierd being in Argentina, it was my first time leaving Chile since I got there about five months ago. It is still spanish but they have a very different accent and different words they use. I don´t use that many Chileans words but Kate does and we encountered a lot of times when they didn´t know what we meant because were using Chilean words that half the time we didn´t even know were Chile specific. It is also so much cheaper there. Although Chile is cheaper than the US, it is the most expensive country in South America and so things were much cheaper in Argentina.
The next day we planned on taking a bus in the morning so slept in and went to the bus terminal. We got there and were told that it had started snowing and they had closed the pass to Chile and it would probebly open the next day. That afternoon everyone who had come to the party was going to say goodbye to David at the bus station so we decided to go. It was pretty incredible to watch. About 18 people showed up to send him off and the genuinly really loved him and were going to miss him and there were quite a few tears. There were lots of goodbyes adn tehn everyone stood there and waved until the bus left. It was so nice and made me jelous that I don´t have a community and friends that I am that close with in Chile.
The next day we again had tickets and found out that the pass was going to be closed for at least another two or three days and we both needed to get back to Santiago, I had a paper to work on and a flight to Buenos Aires on Wednesday. So we eventually gave in and bought one-way plane tickets that were super super expensive adn way more money that I want to admit to spending on a 50 minute flight but I was just realived to be back in Santiago to finish up everything I needed to get done.